Here's some exciting news about a product that's been making waves in the beauty world, and it's perfect for all of our eco-conscious gals out there. Green Balance Vegan Cleanser from Forest Hill, a brand owned by global cosmetics company Bonne, has just surpassed 1.5 million units sold. That's a whole lot of cleanser and even more happy, glowing faces!
Launched in July 2019, this 100% plant-based cleanser has been flying off the shelves, selling an average of 1,000 units per day. And the reason behind its success? The focus of Millennials and Gen Z consumers on value consumption – a shift towards purchasing products based on their own value judgments, such as sustainability and ethics. The Green Balance Vegan Cleanser is a perfect example of this, as it avoids animal testing and animal-derived ingredients, while still offering top-notch quality.
So, what makes this cleanser so special? For starters, it's an official certified product of the Korea Vegan Certification Authority. This means you can trust that it truly is vegan-friendly. Secondly, it contains over 10,000 ppm of Green Forebiome, a proprietary ingredient developed by Forest Hill. Green Forebiome is made from 100% Jeju plant materials, including Sambaekcho, Houttuynia cordata, and Aloe vera. These ingredients are aged at low temperatures for 100 hours, ensuring the maximum benefits for your skin.
But it doesn't stop there! This miracle cleanser has also undergone extensive testing at the P&K Skin Clinical Research Center. Proven to be suitable for all skin types, it has passed tests for hypoallergenicity, eye irritation (tear-free), and acne-prone skin. No wonder it's been the No. 1 Cleanser on CJ OnStyle for three consecutive years since 2020!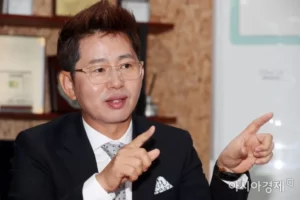 You can find the Green Balance Vegan Cleanser in major home shopping channels such as CJ OnStyle, Hyundai Home Shopping, Lotte Home Shopping, GS SHOP, and Home & Shopping, as well as open markets like 11th Street, Interpark, eBay, Gmarket, Amazon, and Coupang.
Bonne CEO Lim Seong-gi is confident in the brand's continued success, stating, "Based on the brand and product awareness accumulated in home shopping, we plan to actively secure new open market vendors in the future. We will continue to increase sales by introducing various types of vegan basic lines." So keep your eyes peeled, ladies – more fantastic vegan products are on their way!
If you're looking for a K-beauty cleanser that's kind to animals, the environment, and your skin, look no further than the Green Balance Vegan Cleanser. It's time to join the natural skincare revolution!