Halloween is a magical time of year, and what better way to celebrate your nuptials than with an elegant Halloween-themed wedding cake? From spooky skulls to glittering pumpkins, there are endless possibilities when it comes to creating the perfect cake for your big day.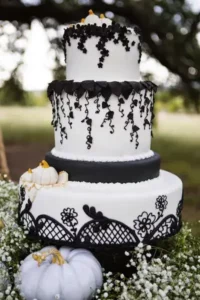 Whether you're planning a small and intimate ceremony or a grand and lavish affair, a Halloween wedding cake can add a touch of whimsy and romance to your special day. Here are some ideas to inspire you:
Black and white elegance
For a classic and sophisticated look, consider a black and white wedding cake. Add some subtle Halloween touches with black fondant accents and a delicate sugar skull topper. This will create a chic and spooky vibe that is perfect for a Halloween-themed wedding.
Glittering pumpkins
Pumpkins are a quintessential Halloween icon, but they can also be elegant and glamorous. A stunning three-tiered cake adorned with glittering pumpkins, black roses, and gilded leaves is a show-stopper that will leave your guests in awe.
Gothic romance
For a gothic-inspired wedding, choose a cake with intricate lace detailing, delicate sugar flowers, and a dramatic black and red color scheme. Top it off with a vintage-style topper like a black crow or a skeleton bride and groom to create a romantic and macabre feel.
Haunted mansion
If you're planning a Halloween wedding with a haunted mansion theme, consider a cake that resembles a creepy mansion. The cake can be covered in black fondant, with windows and doors piped in white. Add some spooky ghosts and a full moon to complete the eerie effect.
Spooky sweets
For a more playful take on a Halloween wedding cake, opt for a design that features spooky sweets like candy corn, eyeballs, and spiders. You can have fun with the design and add whimsical touches like a fondant witch's hat or a black cat topper.
No matter which design you choose, a Halloween-themed wedding cake is a creative and unique way to celebrate your love on this special day. Whether you go for something spooky and macabre or elegant and sophisticated, your cake is sure to be a memorable and delicious addition to your celebration.